Our Qualifications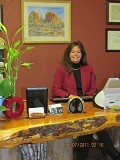 Michelle Kane Griefenberg founded Accounting Services of Sedona  in 1994 after 9 years of working at AllCare VNA of Greater Lynn, 2nd largest home health care agency based outside the Greater Lynn/Boston area. She worked and  learned the business  while attending St. Mary's High School where is graduated in the top 10 of her graduating class.  Throughout her college years she worked  as a Junior Accountant. She also worked for Eastern Bank as a financial products consultant while attending college. Working as Junior Accountant during her college years she was soon promoted to Accounting Manager after obtaining her Bachelor's Degree in Accounting and Economics and sitting for the CPA exam in Massachusetts. She oversaw 5 departments of an agency of over 500 employees, and was responsible for the consoldidated financial statements representing 5 intercompanies of the organization.Michelle obtained a strong background in Accounting as she assisted with several fiscal and govermental audits and  was successful and dedicated to the organization as she made the decision to continue in private v.s. public accounting. In 1994, Michelle made the decision to relocate to  Sedona to start her own independent accounting and tax practice.
Michelle is a Registered Representative with Cetera Financial Specialists LLC. She holds numerous other registrations and is qualified to handle virtually all of your financial needs. Michelle became securities registered and Insuranced licensed when she added financial services to her Accounting & Tax practice in 2000 .  Michelle is a  Federally licensed tax professional. As an E.A.(Enrolled Agent), she specializes in income tax preparation & planning for individuals, corporations, partnerships, LLC's, trusts, Non-profit, and estates. As an Financial Adviser she specializes in estate conservation and asset management. She is a veteran of the securities business and enjoys working in both her accounting, tax and financial private practice.

Michelle graduated with honors from Salem State University in December 1990 with a Bachelors of Science in Business Administration with a Major in Accounting and a Minor in Economics.The firm was founded in 1994 when Michelle moved to Sedona and Incorporated in 2000. As an Enrolled Agent and strong background in Accounting she can represent clients in tax court. Best of all, Michelle is available all year to answer any tax questions you may have. She has been working with individuals and businesses in the area for several years and she is proficient in all areas of Taxation.  Being Federally licensed gives her the ability to service your tax needs in any state of the country and in all administrative levels of the Internal Revenue Service for audits, collections, and appeals.
Accounting, Tax & Financial Services of Sedona is dedicated to developing lasting relationships with all our clients. We believe in helping you assess your financial goals and participate in the management of your finances.

One of the benefits of working with us is our ability to provide clear, easily understood explanations of financial products and services. The personalized program that we can provide is a roadmap to working toward a more secure financial future.
We're looking forward to using our expertise to help you pursue your financial goals.